Our partnership with Baader Planetarium brings industrial grade, high-end astronomical observatories to the Middle East region.
By connecting astronomical observatory with the planetarium together, Visuals Attraction can remotely fully control astronomical observatories from within the planetarium allowing the presentation of telescope-captured images on the dome screen.
Visuals Attraction also specializes in building archiving systems and image processing with high-resolution and large storage capacity as these systems store the previously taken observation images to use them later in studies and scientific research.
Astronomical Observatories
Visuals Attraction specialize in the installation of astronomical observatories that suit your needs. With our partner Baader Planetarium, we provide observatories designed to withstand tough conditions and determined in a manner that even the entry of dust strictly prohibited.
They are also equipped with thermal conditioning techniques that enables the observatory to observe with extreme clarity and outstanding geometrical construction of the infrastructure of the observatory, guaranteeing that telescopes will work with the highest possible performance.
Dome Observatories
Dome observatories provided by our partner Baader Planetarium are available in a range sizes all of superior quality and with a 25 year guarantee.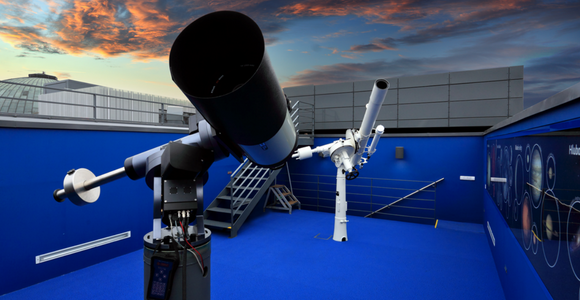 Telescopes
Our High-quality telescopes specially manufactured by Baader Planetarium equipped with astonishing lenses from Carl Zeiss will ensure to provide best observation and our reflective telescopes made by the American Company Plane Wave equipped and integrated with special control technologies designed by Baader Planetarium as well will ensure to deliver best experience ever.