As the first educational 'city' venue in the Middle East, Children's City is dedicated to young people between the ages of 2 and 15 – promoting the exploration of science and astronomy education.
Visuals Attraction was awarded contract to upgrade the existing planetarium by Dubai Municipality – transforming it into a 4K, high contrast fulldome experience with a powerful media serving solution, a live sky system, a virtual telescope for astronomers and an earth-based virtual observatory system for geo-researchers – complete with 7.2 audio configuration and a sophisticated control system for all staff to easily access and manage the theater.
To fully utilize the space and create a multi-purpose theater, an immersive laser light show system was also installed to give audiences a wide range of experiences.
Designed to capture young minds and imaginations
As well as screening planetarium films, the new system also includes astronomy visualization software for live sky and real-time astronomy shows.
The software features a Live Sky system… a virtual telescope for astronomers, a virtual observatory from Earth for geo-researchers, and an interactive teaching and learning tool for science educators.
The new fulldome laser system offers visitors of all ages a truly unique experience – transforming the planetarium into an ever-changing universe of brilliantly colored imagery and animations.
Every detail of the planetarium has been designed to ensure harmony between comfort and technology – Visuals Attraction designed and commissioned its Falak Bright® theater solution.
Around the edge of the planetarium, five high brightness projectors deliver a high-resolution, and high contrast projected on-screen experience – the projectors are seamlessly blended to create a single image.
As a first-of-its kind installation that has used a 4D dome to visualize real-time data and simulated weather data, Visuals Attraction delivered a state-of-the-art Falak® theater solution with 4D effects hardware.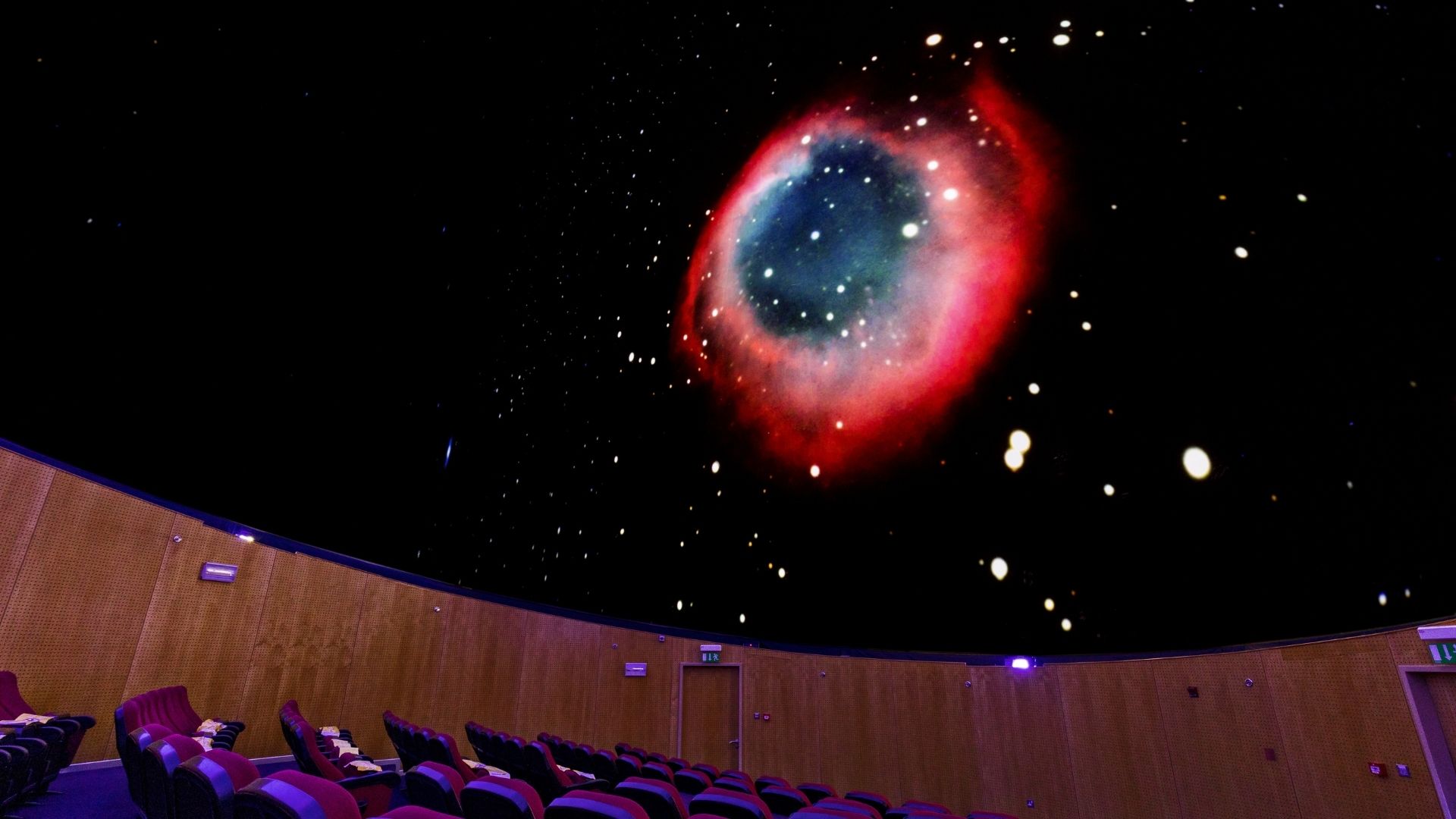 The Media Server powers the system and all its components. Renowned as the world's most powerful media server, it offers fully uncompressed playback at 60 frames per second for a smooth and realistic digital experience.
A sophisticated control system programmed to the planetarium's requirement enables staff to manage everything from the operator console which is located at the back of the planetarium.
A handheld tablet offers easy management of projectors, audio, lighting, computers, and the Immersive Experience content software.
Around the base of the screen, a 16-bit high power cove lighting system is tucked away.
The laser light show system includes a pair of high-speed Optical Scanners for x/y deflection of laser beams and a fisheye lens to increase the projection angle of the optical scanners to a maximum of 360˚ x 180˚ for fulldome coverage.
"The Planetarium is one of the main and important facilities at Children's City. Dubai Municipality is continuously aiming to develop and enhance its services within the edutainment vision in Children's City. Hence, we have developed the city with the latest technologies in order to provide the best services to make our audience happy and to ensure the ability of presenting the latest innovative digital offers for all age groups "
Naila Rashid Al Mansoory
Head of Children's City